How to Drive Massive Traffic that Beats Google Search in Every Measurement
by Bruce Zhang
2014-03-26
Itís a fact that Google drives a large amount of traffic that converts well. Weíll show you a traffic source that beats Google organic search in every measurement:
It could drive more traffic,
It could convert better,
It delivers traffic faster, and
It costs less.
Before we reveal the traffic source, weíll look at the problems of driving traffic from Google organic search.


The problems of organic search traffic from Google
Uncertainty - The biggest problem with organic search traffic is uncertainty. Besides the ever-changing ranking algorithms, the unfair ranking system that has never changed is the real source of uncertainty. If thereíre 100 pages compete for top spots for a given keyword, thereíre only 10 pages will get meaningful traffic no matter what. The failure rate is always 90% regardless the ranking algorithms. If a page ranked at #1 has a ranking score of 90, and the page ranked at #50 has a ranking score of 60. A fair ranking system will deliver 50% of more traffic to page at #1 than to page at #50. But Google will deliver 20% or more traffic to the page at #1, and zero traffic to the page at #50. Not to mention the inaccuracy of calculating ranking scores.
Slow progress - Itíll take at least 6- 9 months to see meaningful traffic from Google.
Expensive - itís common for a small site to spend a few hundred dollars and a large site to spend a few thousand or more a month on SEO campaigns.
Small traffic - Even if a page is ranked on top 10, the traffic will be really small for most local small websites. The reason is that people donít always know what keywords to search for. Keyword searching is an easy but less effective way to locate information.
Lack of interaction or engagement - The visitors that come to your page via search engines are looking at many other pages at the same time. Itís not easy to interact and engage with them.

The Advantages of traffic from engaging in online conversations
The traffic source that will beat organic search is online conversations.
Millions of online conversations are taken place every single day on hundreds of thousands of forums, Question and Answer sites and groups on social media sites. People spend more time on online conversations than searching online.
Engaging in online conversations will drive more and better traffic at a lower cost in a shorter time than other traffic generation techniques if we have a tool to manage the processes.
Certainty - Youíll always get traffic if you post right replies at the right threads at right time.
Faster - Youíll get traffic in a few days or a few weeks. Many popular forum sites do require 10 or 50 posts to show signature links, but that wonít need 6-9 months.
Lower cost - Every effort you put in will generate traffic. And for SEO, most of resources are wasted.
More traffic - Engaging in online conversations will drive more traffic than from organic search because youíre connected with the audience in many ways not just keywords.
Convert better - You have the chance to directly interact with audience.

A platform that streamlines the processes
If the traffic from online conversations works better than organic search in every measurement, why it hasnít been used by many online marketers? The reason is that we don't have a platform to manage the processes and methodology to make it work. This is the very reason we have created SoEngaging platform. We'll walk through the main functionality of the platform. For a more complete guide of the system, see the quick guide.
1. Discover relevant online conversations
Once you have created an account and logged in, enter title, URL to be promoted, and keywords to create a new project. The project can be configured to link with many forum sites of your choice, Yahoo Answers, quora.com and your Linkedin groups based on:
traffic volume of the site,
percentage of traffic from targeting countries,
interest and interactivity of the site,
number of relevant threads from the site,
whether "link in post", and "signature links" are allowed.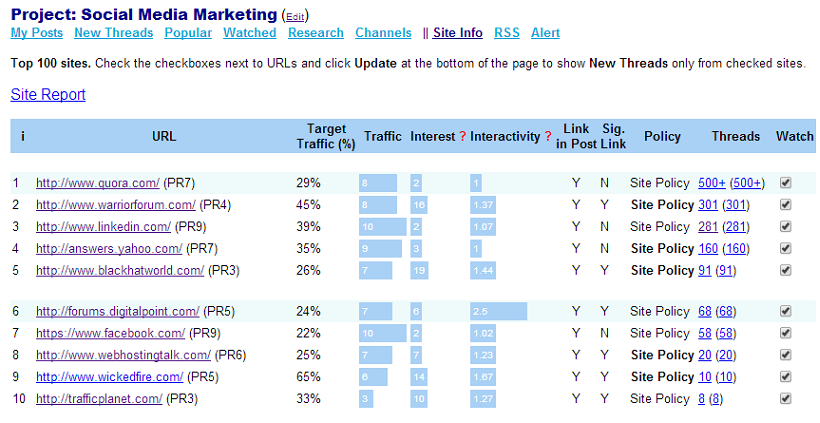 A list of highly relevant online conversations will be shown on "New Threads" page.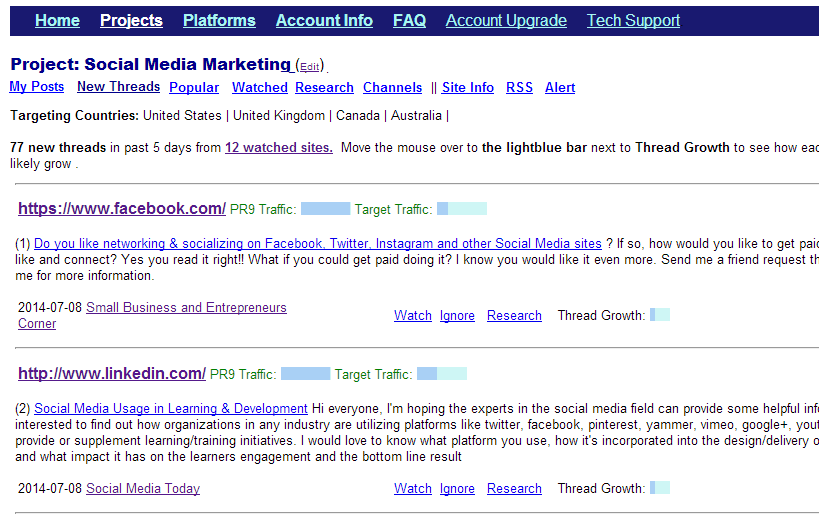 2. Track site registrations and support for strategy
Many popular forum sites require 10-50 posts before showing users' signature links. It is a good idea to register with the sites ASAP and track your accounts as well.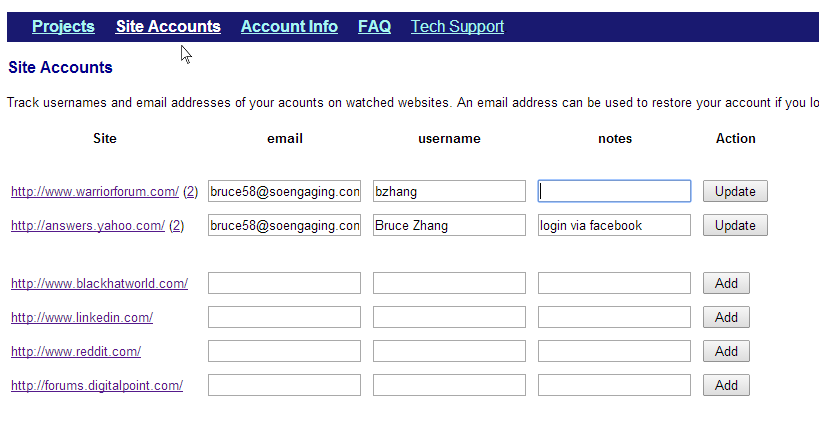 3. Develop a knowledge base for frequently asked questions
Tens or even hundreds of new conversations are initiated every day for some popular topics, but 20% of answers often cover 80% of questions. It is more productive to develop a knowledge base for frequently asked questions that can be used as a base for personalized replies.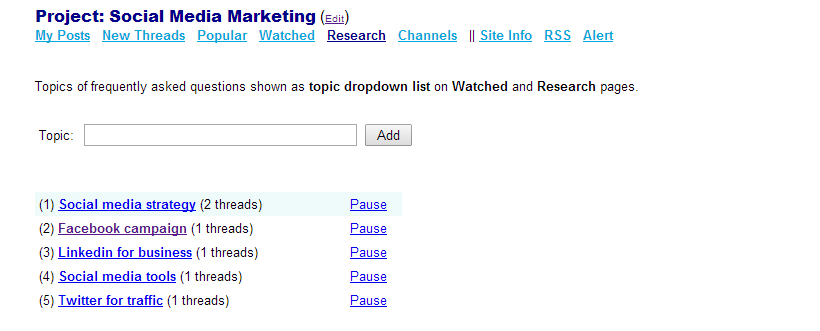 4. Participate in the conversations
"Participated Threads" page tracks all participated threads of a project grouped by topics. This is also the place to add and track the new conversations initiated by you.